Administrative Services Staff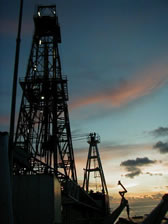 Leg 192, sunset. Photo by Shannon Housley.
ODP/TAMRF Administrative Services
The Administration Services department oversees the business and administrative activities such as contracts, financial services, and general administrative services.

The Contracts Division assures compliance with all contracts entered into on behalf of the Ocean Drilling Program (ODP). This includes the Prime Subcontract between the Joint Oceanographic Institutions Inc. (JOI) and the Texas A&M Research Foundation (TAMRF), the drillship subcontractor, and all other lower tier subcontracts.

The procurement of goods and services, and accounting for all current property/equipment through a computerized capital inventory system, is handled by the Purchasing/Property branches.

The Fiscal Affairs branch manages fiscal activities of the program through Accounts Payable/ Accounts Receivable, Budget Planning/Analysis, and Payroll. Activities include reviewing and processing invoices for payment, projecting and revising detailed budgets, and maintaining payroll and leave records.

The Personnel/Insurance branch handles staffing needs in accordance with State and Federal guidelines, administers employee benefits, conducts orientation and training, and maintains program insurance policies, including the marine liability package. This branch also handles facilities management and security.

The Travel/Conferences branch coordinates and arranges all Program travel requirements (except for JOIDES Advisory Structure meetings which are handled by the JOIDES Office and JOI) and maintains conference arrangements for meetings held in the U.S. and foreign cities.