Contents:

Related Information:

Bridge Deck/Level 6 panorama
(PP Lab Floor Plan)

ODP Technical Note 26
(PP Handbook)

Thermal Data Collection and Heat Flow Recalculations for ODP Legs 101-180

Supervising Scientist: Peter Blum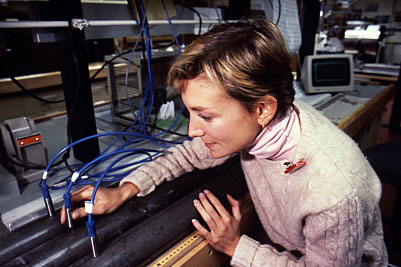 Thermal conductivity is measured using the needle probe method.
JOIDES Resolution Physical Properties Lab
This site covers most of the physical properties measurements on sediment and rock cores (known as "PP measurements"). For paleomagnetic measurements on cores, see Paleomagnetism laboratory. For information on downhole measurements of physical properties, see Downhole laboratory and LDEO-Borehole Research Group.
Physical Properties Lab Working Team (PP LWT)
Permanent Members:

Peter Blum, Staff Scientist (sailing once a year)
Bill Mills, Lab Officer (sailing twice a year)
Two Marine Lab Specialists (sailing three times a year)





Associate Members:

David Fackler, Programmer (sailing about once a year)
Susan Freeman, Database Specialist (shore based)
Physical Properties Working Group Meetings
3 June 2001: Minutes
21 Nov 2000: Minutes
3 June 2000: PP lab review on Leg 190 transit
18 Apr 2000: Minutes

Physical Properties Links
PP Handbook (Technical Note 26)
PP Measurement Types
PP Lab Floor Plan